Surf Fishing Classes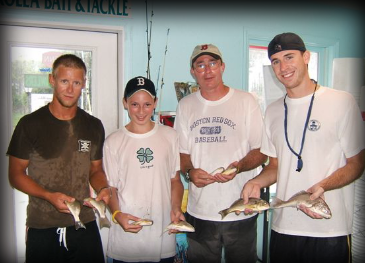 Classes held usually every Tuesday
Book Your Class Early
Corolla Bait & Tackle
252-453-9500
Ever wonder what people mean by "Reading the Water"? Do you know the difference between holes and sloughs, and which species of fish prefer which area? Did you know that wind direction, tides, time of day, and water color play drastically in what you'll catch today, but just didn't know how it all comes together?
Our surf fishing classes teach you the basic ABC's of how to catch fish on any given day on the Outer Banks. You'll learn reading water, locating fish, proper rig and bait presentation & selection, how to fillet your catch, and even how to cook it. By the end of our class, you'll be an ol' salt!
These classes have been extremely successful in the past. Email us or phone in to sign up early!
$45 per person
You will learn:
Reading water
Which species favor which conditions
How to properly present your bait
How wind direction & water temperature affects what to fish for
What fish will be out there before you even go based on the conditions